About Village Alarm
A history of experience & integrity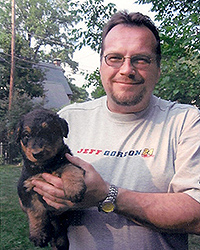 Village Alarm Systems is founded by André Gordon, an expert in the alarm system business. In business since 1984, André and his team have been providing the highest quality security systems to homes and businesses. They combine the experience of large, national corporations with a detailed knowledge of the what individual customers need.
"Our commitment to our customers means that we work hard to stay on top of the latest security technology, and are proud to offer a wide variety of cost-effective solutions for any security need. We offer camera systems for in and around your home or business; we partner with the best monitoring company to ensure 24-hour security and emergency response; we have the latest in home automation technology and we install the best quality equipment on the market."
"As an independent company, we have the flexibility to offer customized installation and personal service. Our relationships with our customers are our biggest asset, and we work hard to provide the highest satisfaction."
André Gordon and his team have an A+ rating through the Better Business Bureau.